There are many ways to watch this year's Super Bowl, whether you want to see the NFL championship game between the Philadelphia Eagles and the Kansas City Chiefs or just want to see Rihanna perform.
The Super Bowl LVII will be on February 12, and the game will start at 6:30 p.m. ET.
How to Watch the Super Bowl Online in 2023
Fans with cable or a live TV streaming service can watch the big game on Fox in 4K. Fans who only know Spanish can watch the Super Bowl in 2023 on Fox Deportes.
You can watch Fox on Hulu Live TV, YouTube TV, DirecTV watch, FuboTV, and Sling TV. Since FuboTV, YouTube TV, DirecTV Stream, and Sling TV all offer free trials, subscribers can even watch the game for free. There is no longer a free tryout for Hulu Live TV.
On the Fox Sports app, the Fox Sports website, and the NFL+ app, viewers can also watch Super Bowl LVII in HD and 4K.
The 2023 Super Bowl: What to Expect
Like every year, a lot of people will probably watch the 2023 Super Bowl to see the AFC and NFC winners play each other. The Super Bowl in 2022 had the biggest audience in the last five years, with an average of 112.3 million viewers on linear TV and 11.2 million viewers on streaming, which is a 15.9 million rise from the year before.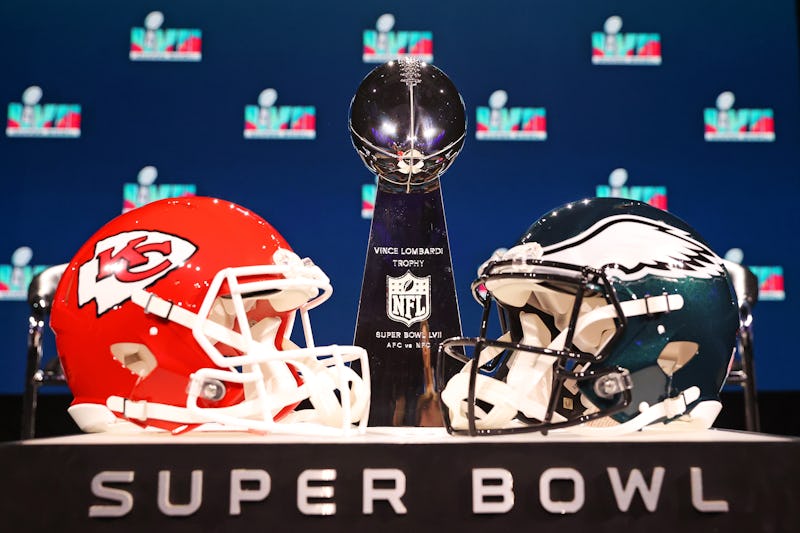 The Kansas City Chiefs will be in their fifth Super Bowl, while the Philadelphia Eagles will be in their fourth. The Chiefs have won three Super Bowls, while the Eagles have only won one.
Also, Travis Kelce of the Chiefs and Jason Kelce of the Eagles will play against each other in the Super Bowl for the first time in NFL history.
Fans can expect to hear what broadcaster Kevin Burkhard has to say about each play. Greg Olsen, who used to be a tight end, will be an expert. Burkhard and Olsen will be working together for the first time in a Super Bowl. Erin Andrews and Tom Rinaldi will also be there to report from the sidelines. The rules expert will be Mike Pereira, who used to be the vice president of officiating for the NFL.
And, of course, this year's Super Bowl ads will get a lot of attention. Let's just hope they're not as bad as the crypto ads from last year.
Performances of Music
Chris Stapleton, a Country Singer, Will Sing the National Anthem Before the Game Starts. the National Anthem Will Also Be Sung in American Sign Language (asl) by "coda" Star Troy Kotsur.
Babyface, an R&B artist, will perform "America the Beautiful." During the pre-show, actress Sheryl Lee Ralph from "Abbott Elementary" will sing "Lift Every Voice and Sing."
This year's halftime show will be watched by a lot of people, especially since Rihanna will be the main act. "Anti," her last studio record, came out in 2016. That's more than six years ago. Rihanna's new song, "Lift Me Up," came out recently. It was part of the music for the movie "Black Panther: Wakanda Forever."
Justina Miles, who became famous on TikTok, will sign the halftime show in American Sign Language.
Apple Music took over for Pepsi as the host of the halftime show at the Super Bowl. No one else who plays music has been booked yet. Dr. Dre, Snoop Dogg, Eminem, Mary J. Blige, Kendrick Lamar, and 50 Cent all performed at last year's halftime show.
Tailgating and Events Before a Game
On February 10, before Super Bowl LVII, the NFL will host a free virtual concert in Roblox with hip-hop artist Saweetie. The event will only be available in Roblox. Warner Music Group's Rhythm City is a new place on Roblox that opened on February 4. Users can go there. The show starts at 7:00 pm ET.
Fans can always count on cute puppies to get them excited for the big game on Super Bowl Sunday. At 2:00 p.m. ET, Animal Planet, TBS, HBO Max, and Discovery+ will be the first places to show Puppy Bowl XIX. Team Ruff will play against Team Fluff in the three-hour match. At 1:00 p.m. ET, there will be a preview show where people can meet 122 puppies from 67 shelters and rescue groups in 34 states.
TikTok fans can go to NFL's TikTok page (@NFL) right before the game to watch the NFL Tailgate party. Jason Derulo and The Black Keys will play live music, and NFL special guests and TikTok creators will also be there. The Fox Super Bowl LVII Pregame Show will also show parts of Jason Derulo and The Black Keys' acts.